Rita1652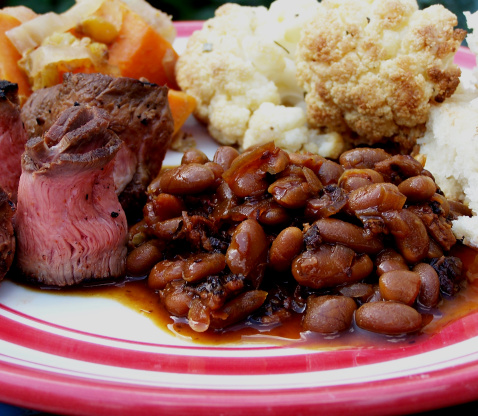 Basically traditional Boston baked beans, but uses bacon rather than salt pork, and orange peel and raisins add a zippy surprise. The preparation time doesn't include pre-soaking the beans overnight. I like to serve this with Boston Brown bread (see my Boston Brown Bread), as is customary.

LOVED THIS RECIPE! But then, of course, I really like raisins & orange zest & since I use them quite often, I waited until the last 30 minutes of baking time & added them then [I also doubled the amount of orange zest!]. Also made sure the bacon was VERY crisp. I allowed the strips to cool down on several layers of paper towel before crunching them into SMALL pieces! Taste was outstanding! Many thanks for sharing!
In a large bowl, cover the beans with water to 2 inches above the top of the beans; soak overnight and drain.
Sautè the bacon with the onion until the bacon is crisp and the onion is tender.
Add the bacon and onion and any pan juices to the beans.
Combine the bean mixture with 10 cups water plus the maple sugar through the orange peel.
Place in a 3½ quart or larger bean pot or casserole dish, or in two smaller pots.
Simmer in preheated oven at 250° 5-6 hrs or until the beans are tender.