Boston Baked Beans in Bean Pot - Durgin-Park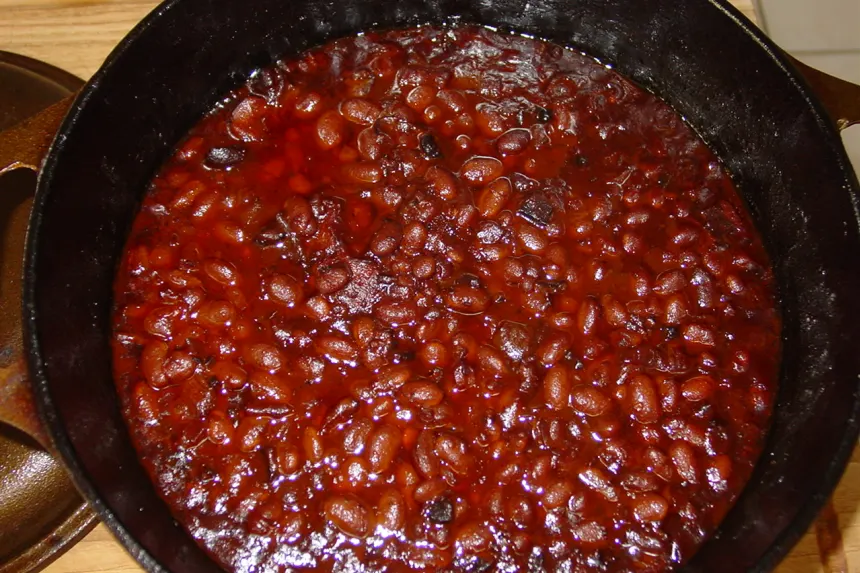 photo by Chef Stevo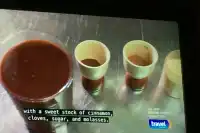 Ready In:

6hrs 30mins

Ingredients:

9
directions
NOTE: Use navy beans, California pea beans, or small white beans.
Soak beans overnight.
In the morning, preheat oven to 325°F Place the baking soda in a Dutch oven and fill half way with water.
Bring to a boil, add the beans & boil for 10 minutes.
Drain beans in a colander and run cold water through them. Set aside.
Dice the salt pork (available in the bacon section of the grocery store)into 1-inch squares.
Put half of the salt pork on the bottom of the bean pot, along with the onion.
Put beans in the pot.
Put the remaining salt pork on top of the beans.
Mix the sugar, molasses, mustard, salt and pepper with 3 cups of hot water and pour over the beans.
Cover pot with lid and place the pot into the preheated oven.
Bake for 6 hours.
Check pot periodically to make sure the amount of liquid is okay.
Add water to the beans slowly as needed to keep them moist; DO NOT FLOOD THEM. Just "top them up".
Remove the pot from the oven and serve.
NOTE: The Durgin-Park, a Boston restaurant whose origins date back to the American Revolution, is famous for its Boston baked beans, baked Indian pudding and apple pan dowdy. Durgin-Park cook Tommy Ryan has prepared this recipe at the restaurant for the past 37 years.
Durgin-Park serves 1,000 diners on an average Saturday evening. The waitresses have a reputation for their long memories: the second time you come in, you get the same thing you ordered the first time--unless you speak fast.
Questions & Replies

I made this recipe in my grandmother's bean pot as is and it was WAY too salty. I think we will really like it if we can reduce the salt. I can eliminate the added salt, but I think it will still be too salty. I even rinsed the extra salt off the salt pork as I had seen in another recipe. Anything else I can do?

 

Is this the original recipe? I just watched Bizarre Foods with Andrew Zimmerman, at Durbin-Park, and they cook them for 10 hours in glazed pots and, every 45 minutes, they top them off with a liquid mixture of cinnamon, cloves, sugar and molasses. I was hoping to find the recipe for that stock. Do you know it, perchance?

 
Reviews
These beans are fabulous! It's my first try at making baked beans from scratch, so I followed this recipe to the letter. It turned out so good I don't think there's anything I'd change. I do like Chef Stevo's idea of studding the onion with cloves though and I might try that next time. Thanks for a wonderful recipe, very easy to follow with great results!

 

Nana Lee these beans are so awesome. This is my first time making home made Boston Baked Beans. I will never buy Bush's Baked Beans again. I did stud the onion with cloves and used Splenda Brown Sugar. I also added cayenne pepper, a smoked pork hock, bacon (I didn't have salt pork) and seasoning salt. I didn't have to add any water through the six hours of cooking. The three cups of water at the beginning were enough.

 
Tweaks
I'm a bit torn with rating this. The first time I made this recipe it was just wonderful! Everyone enjoyed it and it didn't last long at all! Even my mocha-love child thought it was great, and he is a picky eater! If six stars were an option, I'd be asking still for another star because these beans at least go to "11"! The second time I made it, I found myself out of some of the ingredients and being on WIC and EBT, It was either wait or make due, and try to not burn down my HUD house! I did not have any of the beans that the recipe called for, and I know, the very first disclaimer says to not substitute anything, but come on, it cannot be that serious! I'll literally go down the ingredient list. Again, since I didn't have the beans and I wanted these beans badly, I pulled out a frozen bag of Lima beans that was buried in the back of the freezer. We were out of pork fatback, and the local 7-11 didn't carry any, and since I do not have a car, that was as far as I looked for fatback. I remembered that I had Bacon Bits in the pantry, so I used Bacon Bits instead of pork fatback (my first ex-wife had enough shoulder meat on her "fatback" that I should have found her and cut me a slice!) Since I didn't have any baking soda, but we had plenty of pop, I used a can on pop which was only a little anyway. We didn't have any onions, but I had freeze-dried onion flakes in my pantry, so I used that instead of an onion. I was out of sugar so I used some Sweet and Low packets that I had stolen from Denny's over the years. No molasses in the house either, wouldn't you know; so I used Aunt Jemima's Original Pancake Syrup instead. I cooked up for as long as the power stayed on on top of the stove (apparently my babies mama forgot to pay the utility bill, so about four hours into cooking, we lost power). Not to worry, I finished it on the charcoal grill. No one really liked this revised version at all. It had a lighter-fluid taste and the texture was just all wrong. I dunno, maybe there is something to sticking with the recipe. No even my junkyard dog wanted any of it.

 
RECIPE SUBMITTED BY
<p>Click to feed animals I'm a retired teacher now living in&nbsp;the Jamaica Plain area of Boston. I have one daughter, 2 granddaughters, and 1 great-grandson(17 yo Dec '11)! I've travelled a bit throughout Europe and the U.S. as well as Honduras and Costa Rica. I think I may have some gypsy ancestors! I love to travel but am not able to anymore. So I do a LOT of reading instead. My current craft passion is knittng but I have dabbled in just about everything. I've done leaded glass work(stained glass), which I love; am working on counted cross stitch; and am willing to try any craft, at least once! I've also worked for a major insurance company as a case analyst. I have 2 cats, Teddy BB 11 .o. on the 19th of Feb, and CiCi who will be 5 years old on Mar 6th. src=http://i23.photobucket.com/albums/b399/susied214/orn.jpg&gt;</p>
View Full Profile