Salsa Verde (Italian Green Sauce)
PetsRus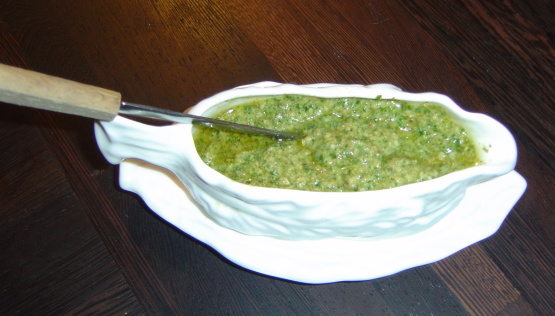 This sauce from the Lombardy region of Italy is a fantastic companion to meat. A dollop on top is all you need! I also mix this with plain pasta as a variation on basil pesto. There are a number of different ways to do this. Optional basil and mint or dijon mustard or parmesan cheese can be added, but here's the basic recipe.

Clean, sharp and robust flavored sauce. I used all the optional ingredients and therefor increased the olive oil. We used this sauce on grilled salmon and what was leftover I added to cooked pasta...both were excellent!! The sauce keeps well for several days in the fridge.
Blend all the ingredients in a blender or with pestle and mortar.
Leaving it to stand for a while allows the flavors to develop.
Mix with pasta or place a dollop on meat or fish.
Enjoy!