Sageca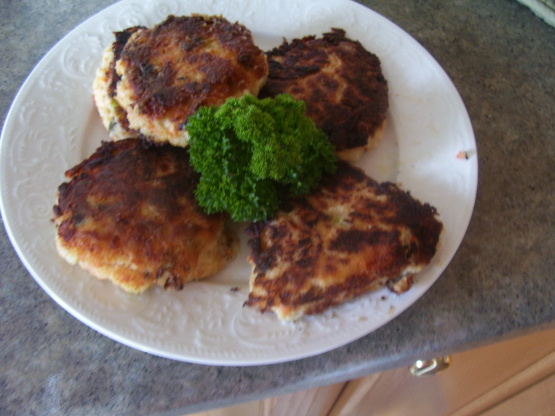 My kids don't like fish, but they like these salmon cakes.

These were awful! I actually had to throw the leftovers away because my family would not eat them. The recipe would be good without the capers though. They made the cakes taste like a buttery pickle and are what ruined it for us. I'll keep this recipe and not include the capers next time and see how it turns out.
Saute onion and celery in olive oil until translucent and softly-cooked, about 10 minutes.
Set aside.
Remove skins from potatoes and grate coarsely into a large bowl.
Add onion and celery.
In a small bowl, whisk together mayonnaise, egg, Worcestershire Sauce, thyme, capers and season to taste.
Add to potato mixture and stir until combined well.
Add salmon and incorporate evenly.
Form 1/3 cup measures of salmon mixture into patties and dredge in flour.
In a large skillet, heat butter and oil over medium-high heat until hot but not smoking, and saute patties in batches for 3 minutes pr side, or until golden-brown.
Serve salmon cakes with lemon wedges.