Salisbury Steak ( Turkey )
MsSally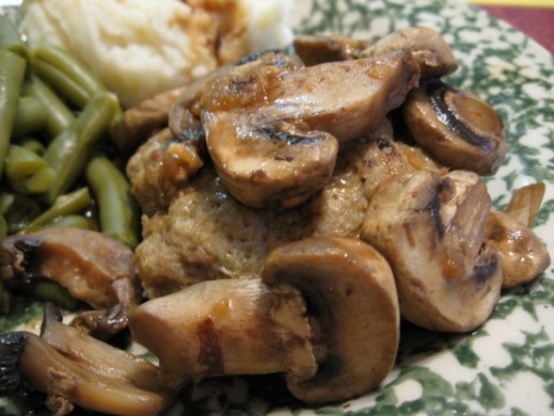 A great change of pace for a classic. This is a healthier and lower calorie version ... made with ground turkey!
Top Review by PaulaG
Made half a recipe for dinner last night. Since this does not have a canned soup it was easy to convert to gluten free. For the breadcrumbs I used gluten-free certified oatmeal. Prior to browning the patties I dusted them with gluten-free flour which helped them to develop a nice color. I added in some sliced onions to cook with the mushroom gravy and added the patties back into the gravy to cook for a few minutes after removing from the oven. I did thicken the gravy with a little bit of cornstarch mixed with water. Next time I would make more of the gravy. I seasoned according to our taste. The steaks were served with mashed potatoes and peas. Thanks for a good recipe.
In a nonstick cooking pan that has been sprayed with veggie spray, sweat minced onion, mushroom stems, and 1 dash of salt until translucent. Set aside to cool.
In a large bowl, mix ground turkey, cooled veggies, bread crumbs, 2 egg whites, 1 tablespoon Worcestershire sauce, 1 tablespoon onion powder, 2 tablespoons ground sage, 2 teaspoons kosher salt, and freshly cracked black pepper until thoroughly mixed (as you would a meatloaf). Divide the meat into 6 patties. Preheat a seasoned cast iron skillet (this gives the best results, a rich beefy flavor), brush on 1 teaspoon of olive oil. Brown meat on both sides. Finish in the oven at 400 degrees for 20 to 30 minutes until no longer pink in the center.
In the meantime, sauté a pound of sliced mushrooms in nonstick skillet with cooking spray, until tender.
Once the meat is done, take it out of the pan and scrape the bits of caramelized meat out of the bottom of the pan with a spoon. Add the sage leaves, wine and the beef broth, and bring to a boil. Let the sauce reduce by half. Remove from the heat, take out the sage leaves, and pour sauce over steak. Serve along with sautéed mushrooms, brown rice, and a fresh green salad.