Rutabaga and Chicken Stew
ChefLee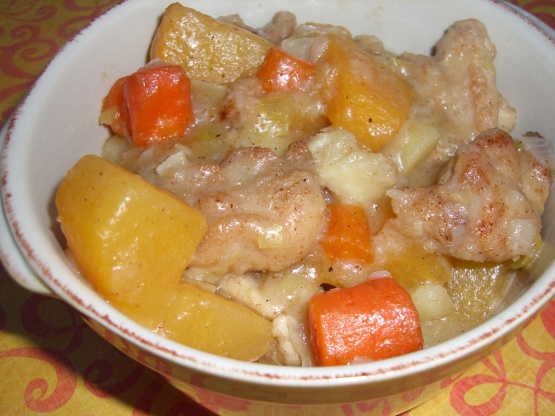 This is from a recipe card at Wal-Mart ya'll ! I just love rutabaga and with chicken thighs and parsnips, I think it sounds good and not too expensive either!!! Yeah!!

you can make this same recipe using white potatoes instead of rutabaga. i also through in some frozen peas toward the end. serve with egg noodles or italian bread to sop up the gravy.
Bring a large pot of lightly salted water to boiling. Add rutabaga, parsnips and carrot. Cover and cook 10 minutes or until tender. Drain and set aside.
While vegetables are cooking, melt butter in large pot over medium heat. Dust chicken with flour and season with salt and pepper,,,reserving any leftover flour.
Brown chicken half at a time in pot with butter; remove chicken when brown.
Add the leek to the pot. Saute for 3 minutes or until tender.
Add 1 TBSP of the reserved flour to the pot, stir to form a paste.
Stir in the chicken broth and bring to boiling, stirring frequently.
Return chicken to pot, add vegetables and reduce heat to low.
Cover and simmer 10 minutes then sprinkle with chopped parsley.