Russian Chopped Eggs With Onion
Debbwl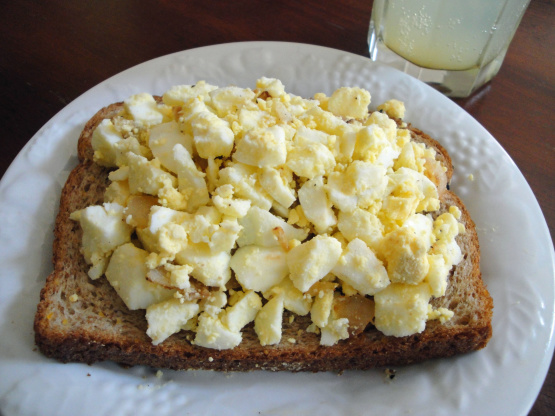 Found on russianfoods.com. They say: "A wonderful quick spread for breakfast. You can serve it with different types of bread, the only thing – it must be fresh."

The first question I asked myself was if I would miss the mayo. (No.) I browned the onions in the butter for approximately 10 minutes or until the onions were just starting to caramelize. That subtle taste of sweetness really enhanced the end product. I had some fresh dill on hand from our CSA box and added some to the mixture, too. Made sandwiches with salad greens for an easy dinner which included fresh fruit and cut up vegetables. Prepared for Culinary Quest 2014.
Chop eggs very finely.
Fry onion until light brown and stir in salt and pepper.
Mix in the butter.
Spread on bread slices.