Rosemary Smoked Halibut With Balsamic Vinaigrette
Thorsten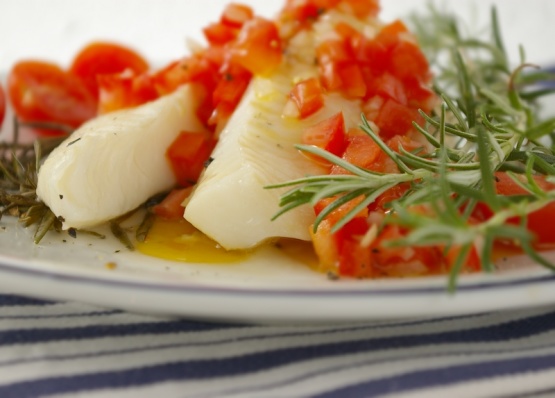 I am always looking for different recipes for fish, as I am trying to incorporate more and more into our daily diet. You actually set the rosemary briefly aflame which gives the fish a wonderful herb flavour and aroma. Part of the dish can be made up ahead of time

Easy to make and delicious. To smoke the halibut is different. It will keep the flavours of the fish and add a smokey and herbal note to the fish. The fish came out great and with the vinaigrette on the side it makes a wonderful light and healthy dish. Thanks for sharing.
In a baking dish, place rosemary beside halibut; light rosemary with match (rosemary may not remain lit). Cover tightly with foil. Bake at 425 oven for 8 - 12 minute or until fish flakes easily when tested.
Balsamic Vinaigrette: Meanwhile, in a small bowl, whisk together oil, balsamic vinegar, pepper and salt. Stir in tomato and shallot.(can be done ahead of time).
Serve with halibut.