Roasted Red Potato Wedges
teresas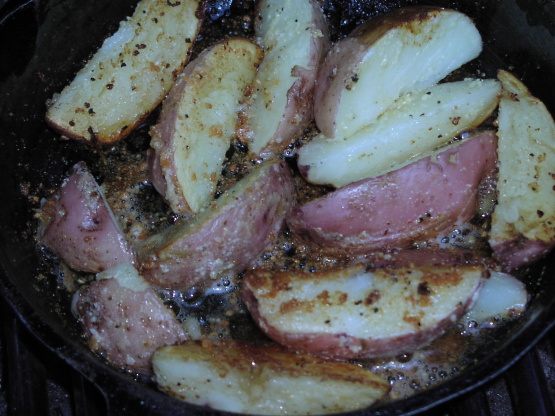 Red potato wedges tossed with butter, Parmesan cheese and garlic are roasted to perfection to create a delicious side dish that pairs perfectly with steak or roasted chicken.

Top Review by Bekah
YUM! I made these with my crockpot roast and they were gone in no time! They take almost no time to prepare and taste like you slaved. The flavors are perfectly mixed. I didn't pre-boil the potatoes because I comepletely missed that step somehow. But they were done in only 35 minutes and were very fluffy on the inside. Perfect! 8 thumbs up from my 4 guests!
Boil potato wedges until tender.
In 13 inch by 9 inch baking dish, add all ingredients, tossing to coat potatoes.
Bake at 425 degrees for 20 to 25 minutes or until potatoes are lightly browned, turning potatoes half way through cooking time.