Roasted Pepper Halves With Bread Crumb Topping
gailanng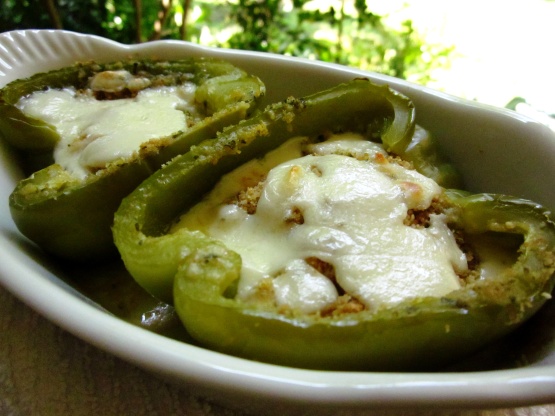 This is a fantastic recipe. It's one that my husband really loves. Most men seem to love peppers, don't they? It originally came from the cookbook "Lidia's Italian-American Kitchen" by Lidia Bastianich. I've tweaked it a little for our tastes and made some changes to make it a little bit simpler to do. You can serve them hot or at room temp. for an appetizer or a wonderful, tasty side dish. I use them both ways.
Preheat oven to 350 degrees.
Drizzle the bottom of a baking dish with 2 tablespoons of olive oil and one clove of the garlic. I use a basting brush to spread everything around evenly.
Cut the peppers in half. Pull out the cores, stems and seeds. Arrange the peppers side by side in the prepared dish with the insides facing up. Drizzle a tablespoon of olive oil over the peppers. (I use a sprayer and spray the oil over them).
Stir the bread and cracker crumbs, the other 3 cloves of garlic, 3 tablespoons of olive oil, Romano cheese, 2 tablespoons of parsley, the thyme, and the crushed red pepper together in a small bowl. Spoon the crumb mixture over the tops of the peppers.
Pour the stock into the bottom of the dish and cover tightly with aluminum foil. Bake until the peppers are tender, about 30-40 minutes.
Remove the foil and evenly scatter the grated mozzarella over the peppers. Continue baking until the crumbs are lightly browned and the mozzarella is melted, about 20 minutes.
Transfer the peppers to a serving platter, stir the remaining 1 tablespoon of parsley into the juices in the baking pan, then spoon the juices over the peppers. (I always skip this step).
Serve hot or room temperature.