Derf2440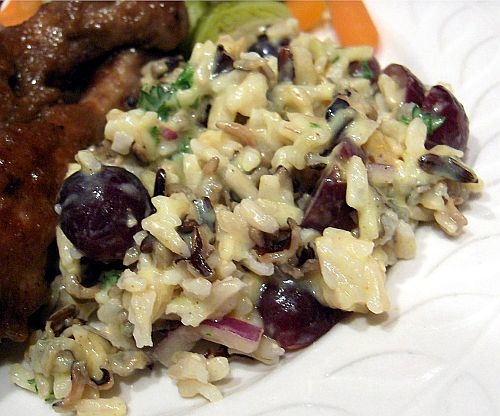 Nice change from potato salad, goes well with BBQ meats, good with "Marinated Flank Steak".

This was a great surprise - it was utterly delicious! I didn't have the yogurt so I used what I had - sour cream. Used about 12 dried apricots. Doubled the curry. Everyone really liked it! It's a wonderful colourful different dish to have at a picnic, summer BBQ, or potluck.
Wash wild rice in 3 changes of hot water, drain.
Combine wild rice and 1 1/2 cups water in a medium saucepan.
Bring to boil.
Cover, reduce heat and simmer 40 minutes.
In a large bowl,combine wild rice, brown rice, halved grapes,apricots and green onions.
Toss well, cover with plastic wrap and chill.
-----------Dressing-----------.
In a small bowl, combine yogurt, parsley, curry powder, brown sugar and salt.
Stir well, cover and chill.
To serve, add dressing to rice mixture, tossing gently to coat.
Garnish with whole grapes.