truebrit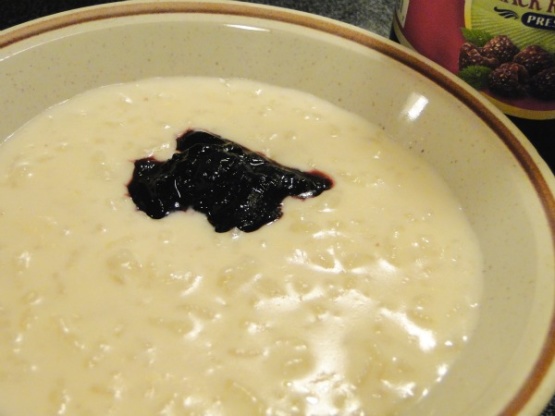 This is an old recipe my Nanna and my Mum use to make I love it and the kids love it.

This is the rice pudding recipe I've been using for years, which I found in a British cookbook. It's my favorite, and when I make it, it always brings back memories of England! I enjoy eating it with a blob of strawberry jam on top, which I swirl into the rice pudding. Mmmmmmmm!
NOTE: The temperature equivalent in step 3 is 300F. I let mine bake for 3 hours, and skimmed the skin off the top when the rice pudding came out of the oven. (Sometimes I skim it off, sometimes I mix it in!) I recommend making double, as one batch doesn't go very far. (I used a 2L baking dish for the double batch.)

Also, to address brini-nmcl's concerns, the amount of rice listed in the ingredients is not a misprint. I often make rice pudding using this recipe, and always use the amount listed here. (except that I double the entire recipe!) It always comes out perfect!
Put rice into a well buttered casserole dish with milk and sugar.
Put a few shavings of butter or margarine over the top and sprinkle with grated nutmeg.
Bake in the oven at 150C for 2-3hrs.
During the first hour of cooking stir a couple of times then leave undisturbed for remaining time.