NELady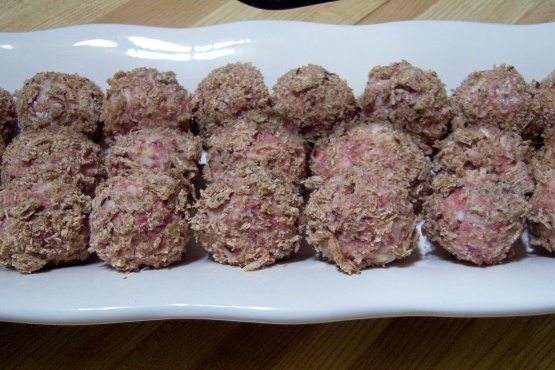 From Rose Hill Extension Club, Chadron, Nebraska cookbook. Recipe submitted by Winona Brecht.

These were excellent! I had to make these after seeing Julie's photo in NKOTB & I'm so glad I did. I borrowed Julie's idea of using Triscuit Rye with Carraway crackers & they were perfect in flavor. I bought a fresh corned beef & cooked it for dinner, then used the leftovers for these appys the next day. Of course the meat was chilled then so it was not easy to combine but since I still had the processor out after the crumbs, I just threw the ingredients for the meat mixture into it & pulsed a few times. Blended perfectly. Then used a 1-inch cookie dough scoop to make the balls & continued with the recipe as directed. Delicious both hot and cold. Thanks for sharing, NELady!
Mix cheese and onion, add kraut, corned beef and 1/4 c crumbs.
Roll into balls the size of walnuts; roll in flour and dip in evaporated milk, then roll in the rest of the cracker crumbs.
Bake in the oven 15-20 minutes at 350*F.