Red Wine-Braised Chicken With Couscous
dusty AE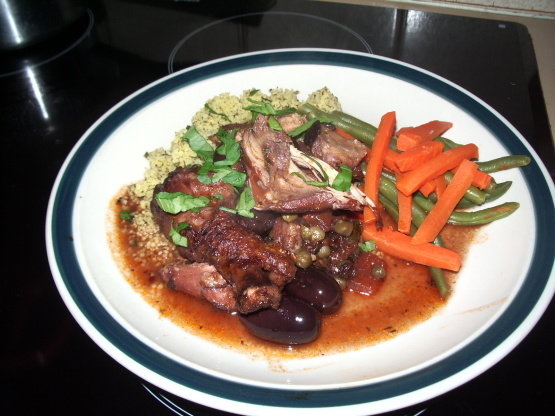 A tasty & healthy chicken recipe which I got from Cooking Light

Delicious dish! I only used thighs and drumsticks for this dish and at the end I used a mixture of a little flour/butter compound (Ina Garten trick) to thicken the sauce a bit at the end. Instead of the couscous, I substituted Savory Curried Rice with Dried Fruit #449229 (by Pantry Elf). They complimented each other very well even though one was Italian and the other a curry dish. I will definitely make this dish again. Made for PAC, 2011.
Place garlic in a small saucepan; cover with water. Bring to a boil. Reduce heat; simmer 2 minutes. Drain; set garlic aside.
Sprinkle chicken with pepper.
Heat oil in a large Dutch oven over medium-high heat.
Add chicken; cook 10 minutes or until browned, turning once.
Remove chicken from pan.
Increase heat to high; add wine to pan.
Cook until reduced to 1 cup (about 5 minutes). Remove from heat.
Stir in garlic, drumsticks, thighs, broth, tomato, and tomato paste.
Bring to a boil.
Reduce heat; simmer 5 minutes.
Add breast halves; cover and cook 30 minutes, turning chicken after 10 minutes. Remove chicken from pan; keep warm.
Increase heat to medium-high; add olives and capers to pan.
Cook, uncovered, 10 minutes, stirring occasionally. Return chicken to pan, turning to coat.
Cover and let stand 5 minutes.
Serve with couscous. Garnish with parsley, if desired.