Nimz1466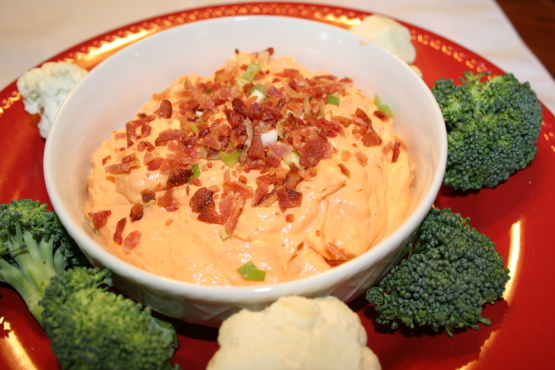 Another magazine find. Hope you enjoy!!!! The recipe calls for Tabasco sauce, but you can use your favorite. It is also recommended that you either use the thick slice bacon or either double the amount of bacon if you are using the thin slice. Cook time is mostly "chill" time. one of those dips that gets better as it sits.
Great dip, Jellyqueen! I used sharp, yellow, low fat cream cheese, low fat sour cream, and low fat mayo to cut down on the fat. I also used Frank's but only 2 t as my children are eating it. We love it!! :) Thanks for posting! YUM!!
Blend all ingredients, excepts the bacon and scallions in a food processor until fairly smooth.
Saute the bacon until crispy and drain.
Reserve some of the bacon to use as a garnish, the stir the rest into the the cheese mixture.
Chill for at least 1 hour.
Just before serving, garnish with remaining bacon and scallions.
Serve with favorite bread sticks, veggies, toasted baguettes, etc.