Really Low Fat, Low Cholesterol and Low Sugar Banana Bread
luvlcy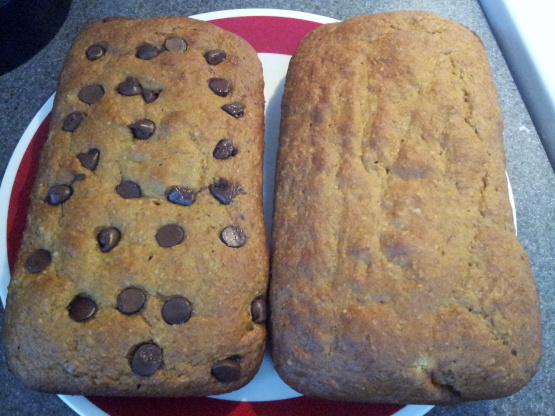 My dh has high cholesterol and I'm trying to lose a bit of weight, so I modified several different recipes and added some ingredients to make it lower in fat, cholesterol, calories and sugar.

Top Review by Dori S
Delicious, Chef! Moist, not too sweet but sweet enough; followed recipe exactly except used Splenda, more walnuts & extra banana. DH loves it, he feels left out when I bake for others without high cholesterol problems so now no more. It's a keeper, thanks again...
Mash 4-6 bananas (depending on size) to make ~ 2Cups. I mash a bunch and freeze in baggies.
Add the rest of the ingredients and mix, being sure to mix the butter evenly.
Pour into 6 mini loaves or 2 regular size loaves. These will rise a bit so allow room.
Bake in 350 degree oven for 45-50 minutes for mini loaves or muffins, 50-60 minutes for regular size loaves.