Raspberry Pie With Oat Crust
jenne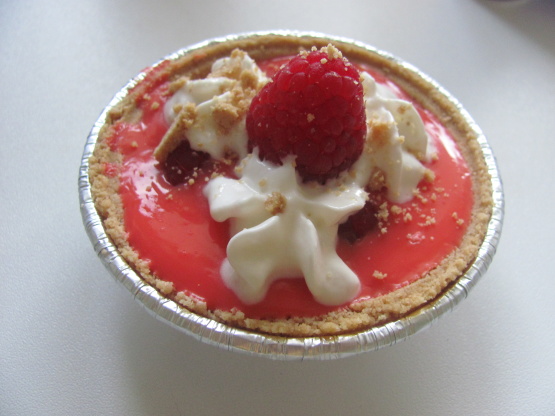 A contest winning, light recipe from Taste of Home (so you know it's good)! Recipe submitted by Ginny Arandas of Greensburg, Pennsylvania. This pie needs to chill in the fridge at least 3 hours, so plan ahead.

Oh my goodness!!!! This is fantastic!!!!I Made this for my husband for fathers day because he is diabetic. Everyone had to have a piece because it was so beautiful. They didn't have a clue it was sugar free and all loved it.My husband was worried that he wasn't going to have any extra for later.I bought a ready made reduced fat pie crust it it worked great.Thanx for sharing!!
In a food processor, combine the flour, oats and salt. While processing, slowly drizzle in oil.
Gradually add water until a ball forms.
Roll out dough between two sheets of waxed paper.
Remove top sheet of waxed paper; invert dough onto a 9-in. pie plate. Remove remaining waxed paper.
Trim, seal and flute edges.
Line unpricked pastry with a double thickness of heavy-duty foil.
Bake at 450° for 8 minutes.
Remove foil; bake 5-7 minutes longer or until golden brown.
Cool on a wire rack.
In a large saucepan, heat water over medium heat. Whisk in pudding mix. Cook and stir for 5 minutes or until thickened and bubbly.
Whisk in gelatin until completely dissolved.
Remove from the heat; cool slightly. Fold in raspberries. Spoon into crust. Chill for at least 3 hours or overnight. Refrigerate leftovers.