"You Like Cheese?" Garlic Bread Spread
flower7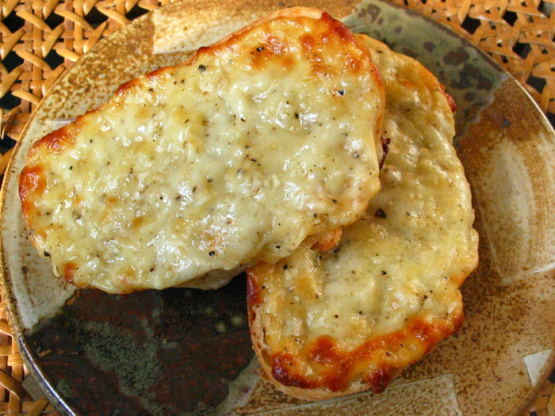 This is fantastic. This was posted on a canning list, and this is a definite staple in my fridge. The best thing about it is that you make it, and it keeps in the fridge for up to 2 months. The taste is fantastic!

Made this yesterday and haven't even been able to make garlic bread out of it yet!!! First tried it on crackers; yummy, garlicy, addicting. Then I used someone elses suggestion and mixed it into my meatloaf mixture. The whole house smelled wonderful - my DH even said he could smell it at the end of our street! He thought that was the best meatloaf he ever tasted, even better than his mothers - now thats saying alot! I quartered the recipe since there is only the two of us. Thank you for posting! Can't wait to try it today as garlic toast and leftover meatloaf. 10/20/06 Finally made the garlic bread and it was wonderful. Baked it then broiled it so the cheese was a little toasted. Great garlic recipe.11/15/06 Last night I put this on top of some canned spinach and broiled it, awsome!
In large mixing bowl, mix all ingredients together.
Fold until all is blended.
Keep refrigerated in mason jars with lids, or in containers with tightly fitting lids.
To make garlic bread, slice french bread and place on cookie sheet.
Spoon spread onto bread.
Toast, bake, or broil until cheese is bubbly and nicely browned.