Quickie Marinated Cucumbers
Parsley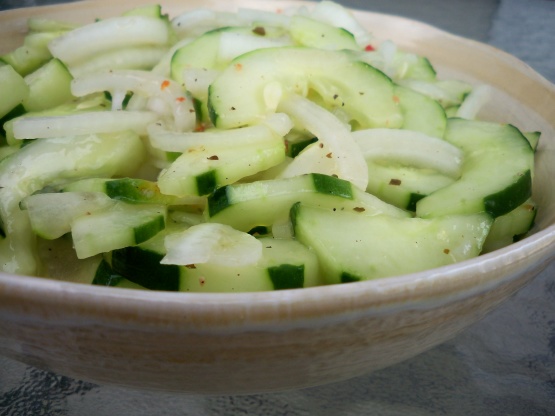 I have not tried this recipe. I'm posting this recipe for safe keeping. I got this recipe from Mr. Food's Quick And Easy Side Dishes. Note: the longer you let these marinate, the more flavorful they become. But if you like them really crisp, then you'd better plan to eat them up within a day (which should be no problem since they're so fresh tasting.

I've always drizzled ranch dressing over cukes and onions, until THIS. SO good! And incredibly easy! Thanks for a keeper!
In a medium sized bowl, combine the hot water, sugar, and italian dressing. Add the cucumbers and onions. Mix well, cover, and chill for at least 2-3 hours before serving.