Quick Warm Avocado Bean Salad (Superfood)
sydsmama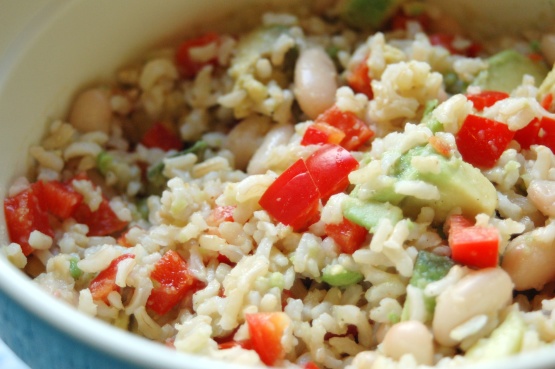 this is a healthy superfood salad which is mega good for you and quick the "I've just got in from the gym and want something good that is gonna fill me up". This makes about 4 large servings its good for lunches too, or it can be i have lots of advocados in the fridge and no veg to use it with hmm what can i do with that? kinda dinner

I really liked this. I used minute rice (according to box directions), left out the peas and coriander (never had before, may try next time!), and used less garlic and cayenne. Also added salt and pepper. I tried warm and cold, good both ways. Thank-you!
Rinse the brown rice and put in a pan with 2 cups of water. Bring to a boil, then turn down to lowest heat and place the lid on the pan; leave for 10-15 minutes or until all the water has absorbed.
Chop the red pepper.
Peel the avocado and chop into chunks; squeeze lime juice and pulp all over the avocadoes to stop them going brown and to provide zing!
When rice is done add the tins of peas and beans, the red pepper and spices and stir to mix everything together.
Transfer to a big bowl, add the avocadoes and stir gently.
Eat straight from the bowl a bit warm or put in fridge and wait to cool.
If you want, season to taste adding more cayenne or garlic or salt or pepper.