Quick Pan-Fried Chicken Livers With Apple, Onion and Sage
BecR2400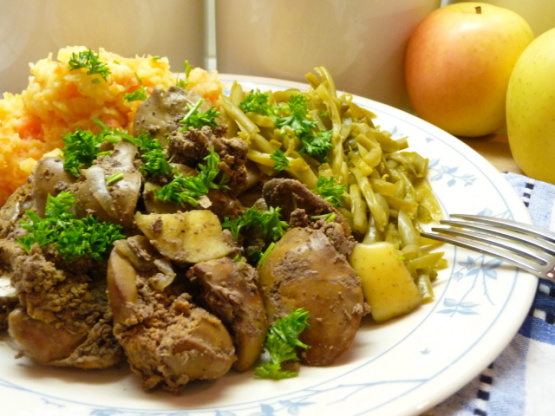 A quick and delicious one-pan comfort meal, resplendent with savory autumnal flavors of apples and sage. A family favorite! Start to finish is less than 30 minutes--perfect for a busy weeknight! I like to serve with mashed potatoes or clapshot (shown with carrot clapshot) and green beans. Enjoy!
In a large non-stick skillet or wok, saute chicken livers and onions on medium-high heat for 10 minutes (NO oil or butter needed).
Add chopped apples and seasonings. Reduce heat to medium; cook for 10-15 minutes more or until done, stirring occasionally.
Sprinkle with chopped fresh parsley, and serve immediately. Goes great with sides of real home-made mashed potatoes and green beans!