Rita1652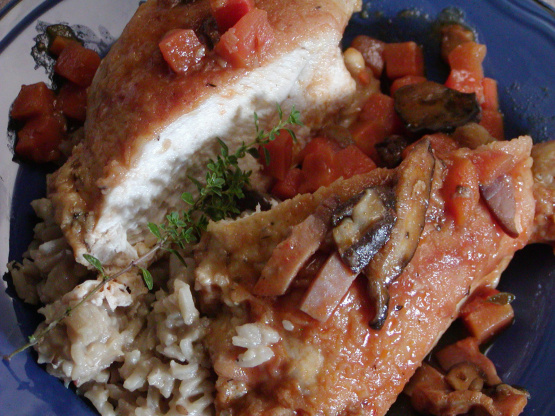 A quick but delicious version of this classic dish. It also has the advantage of being low cal and low fat.

This recipe was fantastic! My husband gets SO tired of eating chicken, and this was a hit with him. Everyone in the house loved it. This one is a keeper. Low fat, easy to make. Works well with Weight Watchers....
Combine flour, thyme, and salt in a zip lock bag, add chicken.
Seal and shake to coat.
Remove chicken from bag, shaking off excess flour.
Heat oil in a large nonstick skillet over medium high heat.
Add chicken; cook 8 minutes or until browned, turning frequently.
Remove chicken from pan.
Add mushrooms, carrot, and bacon to pan; saute 2 minutes.
Stir in wine, broth, and tomato paste; cook 9 minutes.
Return chicken to pan, cook 8 minutes or until chicken is done.