Parsley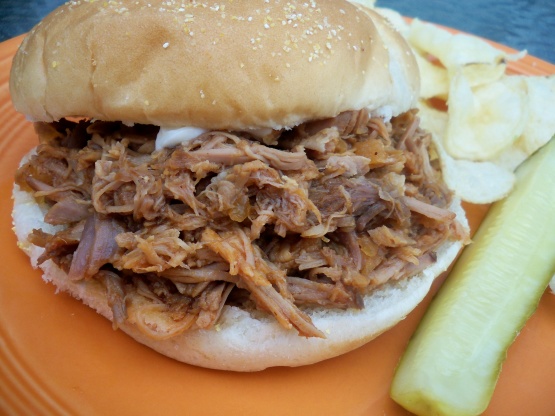 My brother created this recipe a few years ago. It's great for family gatherings, games days, or make-ahead meals. Many of the ingredients (garlic, chili powder, worcestershire) are easily adjustible, so feel free to modify to your particular taste. NOTE: This recipe does not resemble - nor was it intended to resemble - the style of pulled pork made in North Carolina.

I have lived in North Carolina my entire 61 years. This recipe in no way resembles anything we eat or serve in NC. The only ingredients in common are pork, salt, pepper, vinegar, and brown sugar. Horseradish, Garlic, Chili Powder, and Cheese!! You have to be kidding?? There isn't a BBQ restaurant in the state that has those items in house. Plus We don't call it "Pulled Pork". It's BARBEQUE!! Bless your heart, you're not from around here are you? This recipe may be fine for a shredded roast pork, but I take offense that Food.com offers it as the "Best North Carolina state dish". Why not at least choose a recipe BY a North Carolinian?
Add all ingredients EXCEPT PORK to the slow cooker.
Divide pork into quarters.
In a heavy-bottomed pan over medium-high heat, sear pork on all sides.
Add the pork to the slow cooker and mix with the sauce.
Cook for 8 hours on low.
After cooking time has completed, use two forks to pull the pork apart. If you are unable to shred the pork, it isn't fully cooked yet.
Stir mixture to ensure all pork is evenly coated.
Spread horseradish on bottom half of bun, add portion of pork, and top with shredded cheddar.
EAT!