PaulaG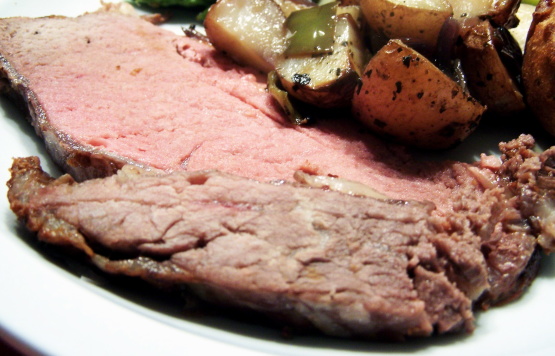 A simple way to cook a wonderful roast.

Top Review by bratty
This was the first time I had made prime rib at home so I was a little nervous about any recipe. This was simple, with very few ingredients, and that is why I chose it. I didn't want something loaded down with seasoning to overpower the flavor of the roast. This fit the bill perfectly. This was simply wonderful! The meat was so flavorful, and it cut so tender, and melted in your mouth. We love horseradish too, so I also made the sauce, which was just as wonderful as the roast. This is definately a keeper Miss Annie! Already planning on making it again for New Years!
On the roast, rub the garlic, then the salt and pepper and place it, fat side up, in an uncovered pan.
Sear in a very hot oven (450-475 degrees) for 30 minutes, reduce heat to 300 degrees, and cook as follows: Rare- 18-20 minutes per pound, Medium- 25 minutes per pound, Well done- 30 minutes per pound.
May be served with Horseradish sauce.