Kittencal's Perfect Prime Rib Roast Beef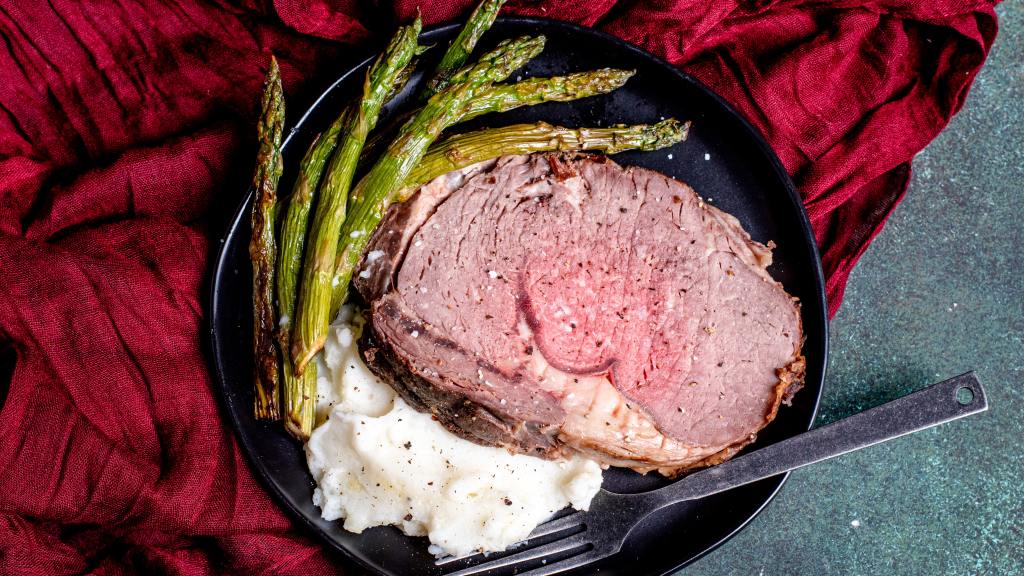 Ready In:

25hrs 15mins

Serves:

Units:
Nutrition Information
ingredients
3 -4

lbs center-cut prime rib roast, nicely marbled, and trimmed, but leave a layer of fat on top of roast for flavor

8

fresh large garlic cloves, sliced in half (or use many as desired)
fresh ground black pepper (use lots!)
1⁄2 teaspoon white salt (can use up to 1 teaspoon salt) or 1/2 teaspoon seasoning salt (can use up to 1 teaspoon salt)
1⁄2 cup dry white wine

2

cups beef stock (or use a good quality beef broth)
directions
Using a knife, poke small holes all over uncooked roast, and insert a half of a clove of fresh garlic in the hole (as many holes and as much garlic as desired).
Cover roast, and refrigerate overnight.
The next day, remove the roast from fridge and uncover; let sit out at room temperature for about 2 to 2-1/2 hours (this is an important step to relax the meat fibers, it will make for a more tender juicy roast, the length of counter-time will depend on the size of your roast).
Set oven to 450°F and allow the oven to preheat for a minimum of 15 minutes.
Season the roast with only a small amount of salt but lots of fresh ground black pepper pepper (that's all nothing else but a little salt and fresh ground black pepper, using any other spices will take away the flavor from the prime rib!).
Place the roast fat-side up on a rack in a shallow-sided pan, then insert a meat thermometer in the middle of the roast but not touching any rib bones.
Roast uncovered at 450°F for 20 minutes (a few more minutes won't hurt at 450°F).
After 20 minutes of high heat cooking reduce heat to 350°F and continue to roast for 1 hour to 1 hour and 15 minutes OR until the meat thermometer reads 130°F for rare doneness OR 140°F for medium-rare doneness, that is the way a prime rib really should be served, check your roast after 1 hour cooking time.
*NOTE* It is strongly advised to remove the roast slightly before desired degree of doneness is achieved as the roast will continue to rise in temperature several degrees after removing from the oven.
Remove meat to a carving board.
Cover loosely with foil and allow let rest (DO NOT CUT INTO ROAST for at least 20 or more minutes or all juices in the meat will flow out).
While the roast is resting prepare the au jus; place the roasting pan on top of the stove over high heat.
Add in the wine; cook for 8-10 minutes, stirring and scraping any brown bits.
Add in the beef stock; cook and reduce the juice by half (this might take about 20 minutes).
Add salt and pepper to taste.
Slice roast (just before serving!) and drizzle with some of the juice.
*NOTE* if desired you can cover the roast loosely with foil the first hour and then uncover and cook for the remaining time.
--------------------------------------------.
APPROXIMATE COOKING TIMES for the prime rib cooked at 350°F after the 20 minute cooking time at 450°F.
Rare; cook 12-13 minutes per pound or to 130°F.
Medium-rare; cook 14-16 minutes per pound or to 140°F (I would not recommend cooking a prime rib any more than medium-rare).
Since every oven cooks differently cooking times are only approximate.
SUGGESTED SERVING PORTIONS PER PERSON ----for a generous serving of prime rib roast you should figure on 2 people per rib, that means if you plan to serve 6 people you should be able to do so with 3 ribs/ eight people with 4 ribs/ do not bother with less than 3 ribs anything less than that is not a roast but rather a steak and would be better treated as such.
Submit a Recipe Correction
Join The Conversation
I was so nervous about this! I cooked a boneless 11.5 lb roast. I was mistaken on reading the thermometer and thought it said 150! So I took it out immediately and let the roast rest about 30 minutes. I thought it would be overcooked, but somehow, it wasn't - it was a nice medium rare. I must have gotten it wrong, but it had a happy ending.