Perfect Prime Rib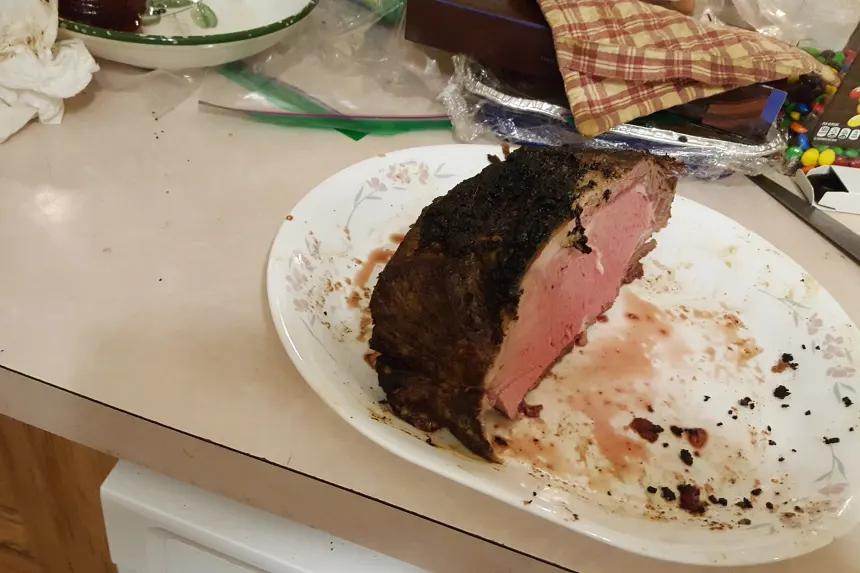 photo by tonydr58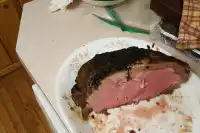 Ready In:

5hrs

Ingredients:

5
directions
Place rib roast on a plate and bring to room temperature, about 4 hours.
Preheat an oven to 500 degrees F (260 degrees C).
Combine butter, pepper, and herbes de Provence in a bowl; mix until well blended. Spread butter mixture evenly over entire roast. Season roast generously with kosher salt.
Roast the 4-pound prime rib (see footnote if using a larger and smaller roast) in the preheated oven for 20 minutes. Turn the oven off and, leaving the roast in the oven with the door closed, let the roast sit in the oven for 2 hours. Remove roast from the oven, slice, and serve.
Tip*.
Your cooking times will vary depending on the size of your prime rib roast. To calculate your cooking time, multiply the exact weight of the roast by 5. Round the resulting number to the nearest whole number. The rib is cooked at 500 degrees F for exactly that many minutes. For example, for a 6 pound roast: 6x5=30, so cooking time is 30 minutes. Turn the oven off and wait 2 hours before opening the oven door. Remove the prime rib and slice into the most perfectly medium-rare meat you've ever see.
Questions & Replies

Reviews
I found a few other recipes like this that say to leave it overnight in the fridge ONCOVERED It dries it so it browns to a crispy brown I didn't use butter PS all the grease splattering at 500 made a MESS out of my new over Cause it says not to cover it But it was perfect at 1 1/2 hrs of sitting in the unopened oven

 

I have tried and failed on several Prime Rib Roasts. They were all failures. My guests complained too rare, not cooked enough, etc. So, I gave up on this cut of meat. I went on line to search for a Perfect Prime Rib recipe and I found yours. Wow! It was amazing. Pink all the way through. The Best I have ever had. Thank you so much for your expertise. Can't wait to make another. It was just for my husband and me but I will not hesitate in the future when having guests.

 

Used this recipe for the timing and got a perfect medium rare 5 lb. roast (and the messy oven). I used my own rub. I scored the fat side a little and rubbed the room temperature roast with olive oil, Lea & Perrins Worcestershire source, minced garlic, then finished with a rub of crushed sea salt, fresh cracked black pepper, thyme, garlic and onion powder. The 500 degree sear created a beautiful crunchy bark. For au jus, I poured out and skimmed the fat from the drippings then brought 2 cups of water with 2 beef boullion cubes, salt and pepper in the pan, added 1/2 cup of red wine and a dash of Worcestershire sauce and returned the drippings to pan and simmered for a few more minutes. Served with horseradish and a black & tan. And potatoes and vegetables of some sort, forgettable at best :)

 
Tweaks
@kathrine T. I'm no expert but t would x5 of your biggest roast I'm pretty sure. to get that 1 to medium rare the other will be a little more done if the weights a bit smaller. If it were all a complete roast then your calculation of 9.88x5 is correct. The times for heat penetration for the thickness.

 

This recipe is magic. I had a small 2.6 lb. prime rib (just 2 of us) and I know from past experience it is very hard not to overcook such a small roast. The only change I made was to use Montreal steak seasoning instead of herbes de provence or thyme (personal flavor preference). The prime rib was juicy, flavorful and not overcooked! The added bonus is you slice it as soon as it is removed from the oven.

 
RECIPE SUBMITTED BY
<p><img src=http://i1086.photobucket.com/albums/j446/pammyowl2/chelsea-1-1.jpg?t=1358729305 alt=width=320 height=234 /><img src=http://i1086.photobucket.com/albums/j446/pammyowl2/th_2934e8e56debfb521317951198.jpg alt=width=160 height=160 /><img src=http://i1086.photobucket.com/albums/j446/pammyowl2/th_HPIM0151.jpg alt=width=160 height=90 /> alt= /&gt;I &nbsp;am an avid cook and baker. I have a Farmers Market stand where I sell breads and sweets. I am really enjouing my stand, as I get to make all kinds of breads, although the sweets are the big attraction! I am married to theworlds &nbsp;most wonderful man, have an aan amazingly &nbsp;brilliant child (of course I would say that!). &nbsp;In short, I am a verry happy, cheerful woman. Baking bread is my passion, but I love to cook anything.&nbsp;</p> <p>I have two great dogs, Jack and Lucy, a black lab and a boxer/pitbull mix, respectively.</p> <p>My rating system;</p> <p>5 stars= great, had fun making it and will make again</p> <p>4= made some changes as the recipe needed tweaking</p> <p>3= probably will not make again</p> <p>I will not post a 2 or 1 star rating, I'd rather post the review with no stars and share some possible fixes:)</p>
View Full Profile