Nimz1466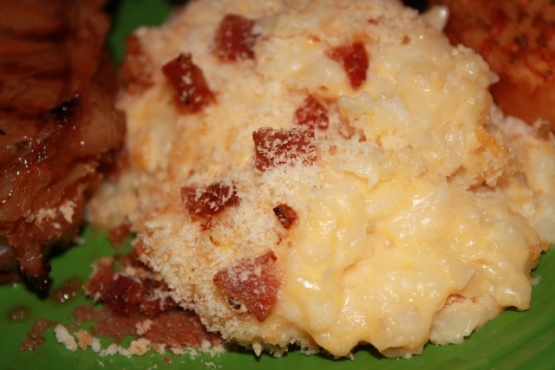 This is a great potato recipe. I have served it at family and company dinners and there's never any left over. Also great for potlucks.

This got a "BIG FIVE" from my whole family. My husband likes anything with bacon, and this was a great side dish. I made a ham (boring) and wanted something to make-ahead. I used green onions insread of onion powder, and I fryed about a half-pound of bacon and sprinkled it on top. It has my vote!!
Boil potatoes until they can be grated easily (not quite done).
Combine sour cream, soup, milk, cheese, garlic powder and onion salt.
Add to potatoes and mix well.
Put in a 9x13 baking dish.
Top with bacon bits and sprinkle lightly with breadcrumbs.
Bake at 350 degrees for 30 minutes.