loof751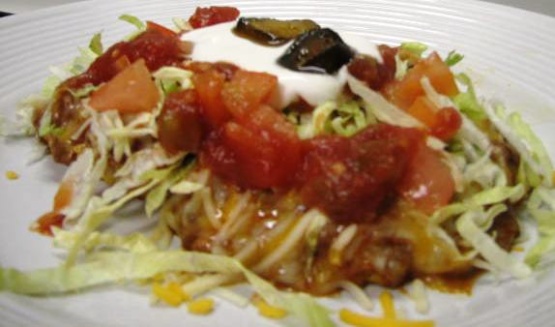 Where the pork becomes the tostada itself. A fun dish concept i came across. Guests and kids will enjoy this way of eating pork. Easily doubled or quadrupled.

wow we have never had a tostada very interesting and tasty and fairly simple to make will make again made and reviewed for zwt 5 genies of gourmet
Take each pork chop and place it between two pieces of plastic wrap and pound it out with the flat side of a meat hammer to about 1/4 inch in thickness. Continue with each chop.
Dredge the flattened chops in corn meal. Heat oil in 12 inch sauté pan and sear on both sides, approximately 2 to 3 minutes each side. Remember your chop is very thin and will only take a short time to cook. Place on a plate until all the pieces are done.
Top the pork "tortilla" with refried beans, a little chili and some cheddar cheese and place in an oven that has been preheated to 350°F just until the cheese melts and the chili and beans are heated through, approximately 8 to 10 minutes.
Remove to warm plates. Have all the toppings ready and allow your guests to garnish their "tostada" as they wish.