Pork Medallions With Prunes and Red Wine
MA HIKER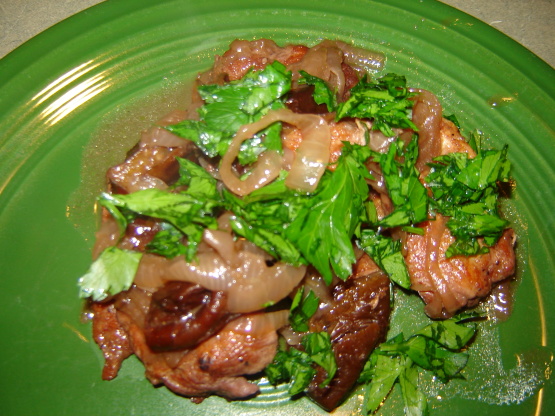 From Rachel Ray - this is delicious & easy - one of her 30 minute meals. It makes a nice gravy so serve with potatoes, thick bread or rice that can soak it up! (I used boneless pork chops, trimmed of fat and pounded thin).

A winner all around.........we LOVED this, there was NONE left over afterwards! I followed the recipe quite strictly and made NO changes, and that is why it is 5 stars - excellent flavours and textures and not too many seasonings, which can "kill" a recipe sometimes. Thanks MA Hiker for a divine meal which I will be making again and again!! Just one point, it was VERY difficult to measure an 1/8 of a teaspoon of cinnamon, so I just sprinked a bit in.....it seemed okay to us!!
In a large nonstick skillet, heat 2 tablespoons olive oil over medium high heat.
Gently pound out the pork medallions to 1/4 inch thick and season with salt and pepper.
Add the meat to the skillet in batches and cook, turning once, until browned on both sides, about 5 minutes. Transfer to a plate, cover with foil and set aside.
Add the remaining olive oil to the skillet and add the onions and cook until softened, about 5 minutes.
Add the wine and prunes, and cook until the liquid is reduced by half, about 3 minutes.
Add the chicken broth, nutmeg, cinnamon, some salt and about 1 teaspoon ground pepper.
Lower the heat and simmer until the prunes are plumped, about 5 minutes.
Return the pork to the skillet; heat through.
Serve the pork and prunes on plates and top with the parsley.