Jen T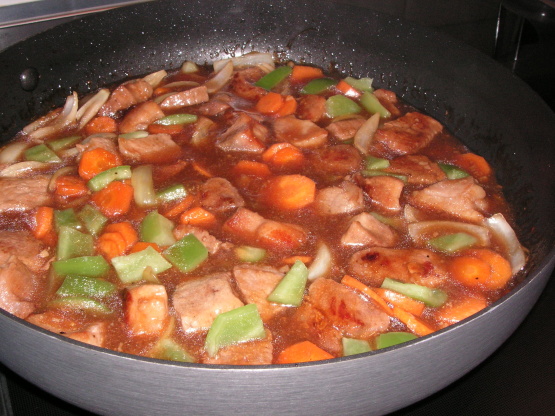 A super-tasting pork dish, that's easy to put together... with just the right combination of flavors.

Top Review by Jen T
A really unusual blend of flavours with no one flavour dominating. Very easy to make and was certainly enjoyed by us. I only had just over 1lb (650g) of meat but used the full amount of all other ingredients. I used a pkt of 'Maggi' gravy mix for pork in place of the french brown gravy mix as I couldn't get that here in NZ. This has gone into my keepers file and I am also going to try this recipe using other meats such as chicken or lamb. Thank you for posting :)
Cut the pork in 1" squares; brown in a large skillet, stirring frequently (about 15 minutes).
Add in the fresh garlic 3 minutes before the 15 minutes is up, stir with the pork.
In a bowl, combine gravy mix, water, honey, soy sauce, vinegar, ginger, salt and pepper.
Add to skillet; cover and simmer for about 20 minutes.
Add in carrots, cook 10 minutes.
Add in onion and green pepper, cook for another 5-10 minutes.
Serve up with rice.