vrvrvr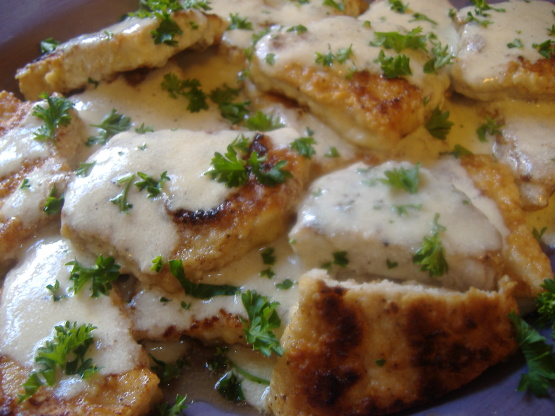 From the book, "Heart of the Palms"

The flavor of this dish was great! I somehow screwed up on the sauce and it unfortunately "broke" on me, but still tasted fine. (Just didn't look so pretty...) Will definitely try again, though. Thanks for a good and easy recipe, Junkie.
Pound pork cutlets to about 1/8" thick.
Cut each into 2 or 3 pieces and set aside.
Beat egg and water with a fork in a pie plate.
Combine flour, salt and pepper.
Dip cutlets in egg mixture and then into flour mixture, coating both sides.
Melt 2 T butter or margarine in a large skillet.
Cook cutlet pieces, a few at a time, until brown on both sides, adding more butter as needed.
Remove cutlets to a warm platter.
Into the same skillet, over medium heat, stir in half and half, wine, and bouillon, scraping brown bits from bottom of skillet.
Cook and stir 3 minutes until thickened and flavors are blended.
Pour sauce over cutlets and sprinkle with parsley.