Pork Chops With Cranberry Balsamic Sauce
John C.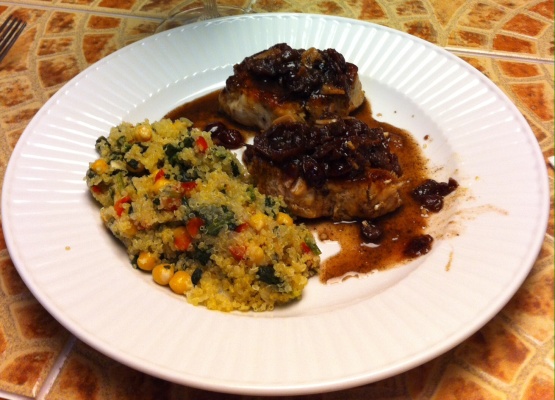 Seasoned pork chops are cooked just until tender, and served with a tangy, quick-cooking, dried cranberry and vinegar sauce.
Season the pork with the lemon pepper. Cook the pork in a 10-inch nonstick skillet over medium heat for 20 minutes or until it's well browned on both sides and cooked through. Remove the pork from the skillet and keep warm.
Heat 1 tablespoon butter in the skillet. Add the garlic and cook until it's tender. Stir the broth, vinegar and cranberries in the skillet and heat to a boil. Cook for 10 minutes or until the sauce is slightly thickened.
Stir in the remaining butter. Serve the pork with the sauce.