Pork Chops With Brandied Peaches
gailanng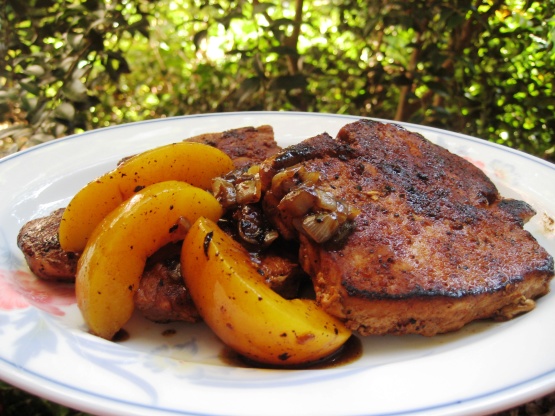 Haven't tried this one yet, but sounds really good. Please post a review and let me know. A great way to ensure tender and moist chops is to soak them in a brine of 1 cup milk to 1/2 Tbs salt for at least 1 hour before using in a recipe.

Brandied peaches are a hard find so I followed Lushka's lead by brandying my own, which resulted in a delicious product. The curry is very prominent and next time I'd cut back by about half only in the sauce. It's a very exotic dish with a beautiful presentation worthy of making again. Made PRMR
1

onion, diced

2

tablespoons vegetable oil
1⁄2 cup balsamic vinegar, divided

2

teaspoons curry powder

14

ounces brandied peaches, drained, reserve syrup

1

teaspoon fresh parsley, minced

1

teaspoon salt, coarse

1

teaspoon black pepper

4

pork chops, 1-inch-thick
In a small skillet cook onion in 1 tablespoon oil over moderately low heat, stirring, until softened.
Stir in 1 teaspoon vinegar and 1/4 teaspoon curry powder. Transfer mixture to a small bowl and stir in peaches and parsley.
In a small dish stir together remaining 3/4 teaspoon curry powder, salt, and pepper. Pat pork chops dry and sprinkle mixture on both sides of pork chops, patting the seasoning into the chops.
In a 9-inch heavy non-stick skillet heat remaining 1/2 tablespoon oil over moderately high heat until hot brown pork chops about 3 minutes on each side.
Pour off any excess fat and reduce heat to moderately low. Add reserved syrup and remaining teaspoon vinegar and simmer, covered, 10 minutes, or until meat is just cooked through.
Transfer pork chops to plates and keep warm. Boil pan juices until thickened, about 15 seconds, and spoon over pork chops. Serve pork chops with peaches.