salt and pepper
breadcrumbs
1 egg
shortening (for frying)
4 pork chops
Directions
Mix salt and pepper with the bread crumbs.
Whip egg lightly, turn the pork chops in egg, then in bread crumbs.
Heat shortening in skillet, brown pork chops lightly on both sides, and place them in a shallow dish.
Cool off the skillet with a little water (very little) and pour drippings over chops.
Cover and bake in moderate oven, 325° to 350°F, about 45 minutes.
Most Helpful
These pork chops were very tasty and so moist. I baked them at 400 degrees for about 15 to 20 minutes only because after 45 minutes I realized that I did not turn the oven on. Even my picky husband said these are a keeper so they are now. Gabby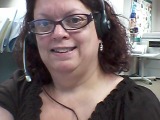 I did add garlic and onion powder to the bread crumb mixture, DH's favorite! I used a cast iron DO so one pan went from stove top to oven. Easy and quick. Thanks
These were nice and tasty even though I over cooked them. My half-inch chops were a bit dry after baking at 350 for 30 minutes. Next time I'll check them sooner. Thanks for the easy recipe... can't wait to try it again.