Polish American Spaghetti Sauce
Boomette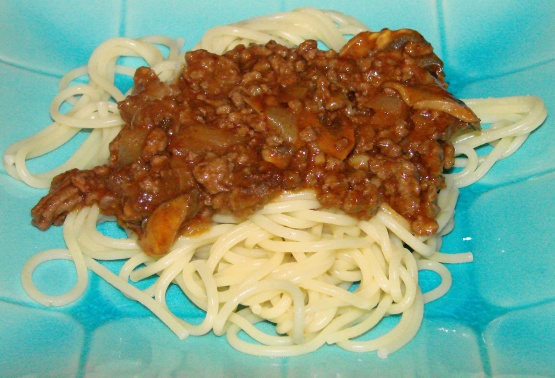 Simple and tasty! I came up with this when I was short on time and long on craving spaghetti. This freezes well, so you can serve 1 or 2 and save some for the next time you're in a real hurry.
This sauce was enjoyed by DH and my son. But for me, I was not too sure about the spices (and it's spices that I like in recipes usually). But in a spaghetti sauce, I'm not too sure ;) The thickness of the sauce was perfect for us. There was enough beef for our taste. The wine is a great addition. Thanks Elaine :) Made for Holiday tag game
Sauté onion and garlic in butter just until softened.
Add ground round and brown slowly, breaking up to a fine crumble.
Add wine and simmer for about 20 minutes until it is reduced by half.
Add tomato soup, broth, and seasonings, stir well and bring to boil.
Cover and simmer for 1 hour. If sauce is not thick enough for you, uncover and simmer for another 10 to 15 minutes.
Serve over your favorite pasta.