2Bleu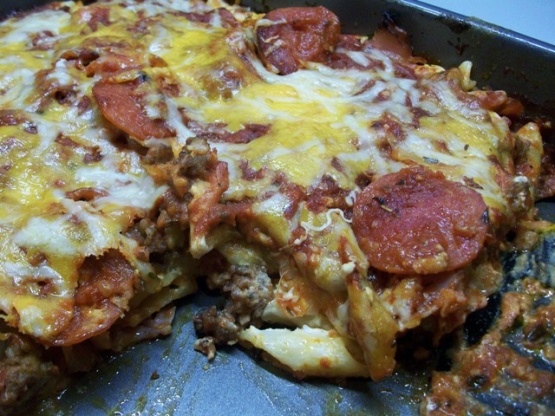 Ever wonder what to do with the leftover meat toppings you didn't put on your pizza? Well, I had some italian sausage and pepperoni left over and this is a recipe that I came up with that I wanted to share with you all. My italian sausage was already cooked but if you wanted to use raw, you could omit the butter and oil and cook the onion, mushroom and garlic with the sausage.

Oh yum! I used fresh sausage minus the casings and homemade tomato sauce from recipe #95239,as it's one of our favourites. I eyeballed all of the ingredients and definately used more mozzarella and way,way more pepperoni than stated. It smelled divine as it emerged from the oven and tasted just delicious. A wonderfully simple and tasty dish,that has so many variations just crying out to be made,as it's so versatile. Thanks gertc,this was a real winner with us!!
Preheat oven to 350 degrees Fahrenheit.
Bring water to a boil in a 3 quart sauce pan. Boil noodles and set aside.
These steps are if you are using pre-cooked sausage:.
Heat butter and oil in a skillet; the oil keeps the butter from burning.
Add your mushrooms, onions and garlic and saute until almost done.
Add your precooked sausage and cook for an additional 5 to 7 minutes or until sausage is heated through.
(If you aren't using pre-cooked sausage, cook the sausage, mushrooms, onion and garlic together and omit the butter and oil.).
In a 2 quart casserole dish, add 2 Tablespoons spaghetti sauce to the bottom.
Layer 1/2 of the cooked noodles, sausage mixture, 1/2 of the remaining sauce and 1/2 cup of the mozzarella cheese.
Layer the remaining noodles, remaining sauce, 1/2 cup mozzarella cheese.
Top the dish off with pepperoni slices.
Bake for 40 to 45 minutes or until cheese is melted and dish is heated through.