Pizza Crust (All-Purpose Flour or Spelt Flour)
Annacia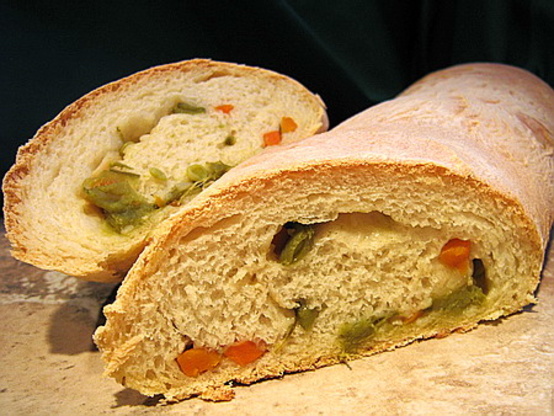 Do I dare post another Spelt flour recipe? After my Spelt Bread Spelt Bread caused a bit of a controversy, I will add the following disclaimer. I substitute spelt flour for regular flour in recipes so my son, who is allergic to wheat, can enjoy them. He does not seem to be bothered by it, however it has come to my attention that people with certain wheat allergies can have a reaction to this flour - so please check with your doctor. Anyways, this pizza dough is very good and very easy. That's all I need to say - ENJOY!

i doubled the recipe and it made two medium sized pizza's. i used all-purpose spelt flour and it was fantastic. almost like a deep crust pizza...topped it simply with roasted garlic and peppers, olive oil and goat cheese...whole family loved it. thanks for this one. it's a keeper.
Set aside 1 cup of flour from total amount.
Mix 1 1/2 cup flour, yeast and salt.
Put oil in hot water.
Add water and oil to flour mixture.
Stir well.
Add extra cup of flour.
Knead. Pay attention to the consistency of the dough. Sometimes with Spelt flour you need to add a bit extra to get the doughy consistency you need.
Let rest for 10 minutes.
Press into greased pizza pan.
Top with favorite pizza toppings.
Bake at 400 degrees for 20 minutes.
Enjoy!