Pheasant With Mushrooms and Onions
teresas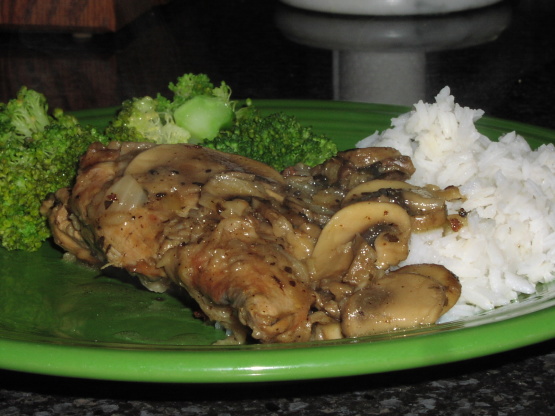 Delicious recipe with sautéed onions and mushrooms.

This is really good...but I did add in some seasoning...salt, pepper and dried basil...and a touch of white wine...I cut the recipe way down...I used a quarter of the ingredients to make dinner for two...using two pheasant breast...served the yummy sauce over the rice...the pheasant came out nice and tender...this would have received 5 stars if there had been some seasoning listed in the ingredients...other wise it was on the bland side...so make sure and season it up...=)
Combine olive oil and butter in frying pan.Cut pheasant into leg and breast pieces.
Roll pheasant in flour and brown in frying pan for 5 minutes turning once.
Remove pheasant from oil and butter. Chop onions into 3/4" pieces.
Sauté mushrooms and onion in same pan until brown.
Add pheasant on top of mushrooms and onions, pour chicken broth over pheasant, cover and simmer for 1 hour.
Serve with rice and asparagus.