Penne With Smoked Salmon and Peas
Thorsten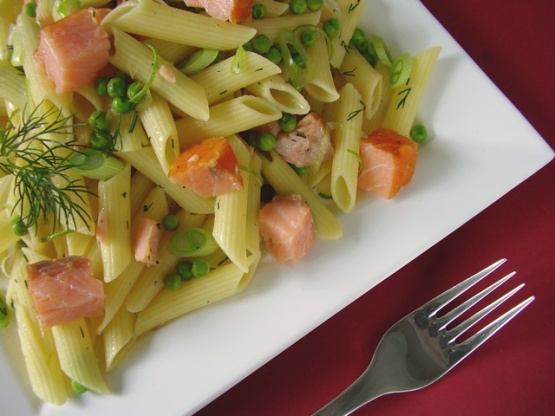 Make sure you get good smoked salmon.

This was incredibly yummy! The BH could not believe that I was using some of our precious smoked salmon to make a pasta dish, but once he had a try he stopped complaining and ate up like a good boy. The only changes I made was to use a vegetable broth instead of chicken, and to stir in a little cream into the sauce. We can't wait to try this one again!
Cook pasta in salted boiling water.
Cook, stirring until the pasta is"al dente".
Drain the pasta and return it to the warm pot.
Add the peas, smoked salmon, lemon zest, lemon juice, butter, olive oil,scallions, and stock.
Simmer till heated through.
Stir.
Add salt and pepper to taste.
Garnish with fresh dill.