Rita1652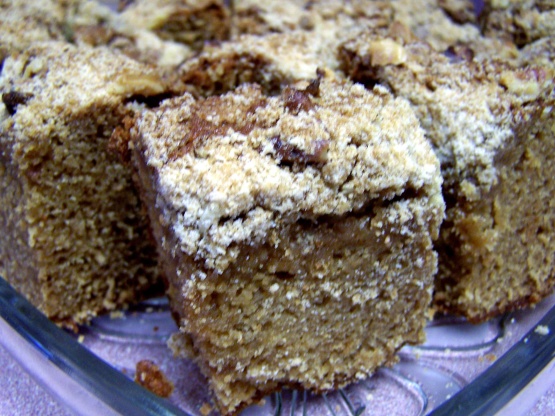 From Libby's old newspaper clipping. I've tried this and it is a great cake. It is very beautiful.

I baked this in a 8x8 pan. The edges were a bit dry and the center sank not completely cooked and I baked for 50 minutes. I suggest baking in a bundt pan for more even baking. I did add some crushed walnuts to the topping. Chocolate chips would be great in this. Taste was very good. And very easy to make.
Mix together brown sugar, flour, and salt.
Cut in butter and peanut butter until texture is like cornmeal.
Take out 2/3 cup of this crumb mixture. Set aside.
To the rest of the flour mixture, add buttermilk, eggs, baking soda dissolved in 1 tablespoon water, and vanilla.
Beat and pour into a greased pan.
Sprinkle with reserved crumbs.
Bake at 375°F for about 30 minutes or until done.