Peanut Butter/Corn Flakes Cookies
KitCat22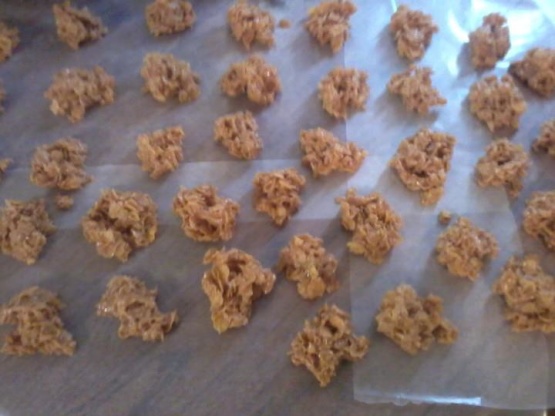 Mom has made these every year during the holidays since I was a child. The family loves them and they are quite simple to make.

I was going to post my recipe for "Cornflake Things" but I did a search first, and found your recipe. Mine is made the same way, but I spread it in a 10 by 13 inch buttered pan and let it cool. Then I melt 1 cup chocolate chips and 1 cup butterscotch chips, and spread over the top. Once the topping is set, cut into small bars. NOTE: DO NOT BOIL THIS! One time I let the mixture actually boil for a few minutes, rather than removing it from the heat as soon as came to a boil. Nobody broke any teeth on the results, but it wouldn't have surprised me if someone had. They were like ROCKS!
Bring sugar and corn syrup to boil; remove from heat.
Add peanut butter and mix well.
Pour mixture over corn flakes.
Mix into balls onto waxed paper or spread into buttered pan.