lazyme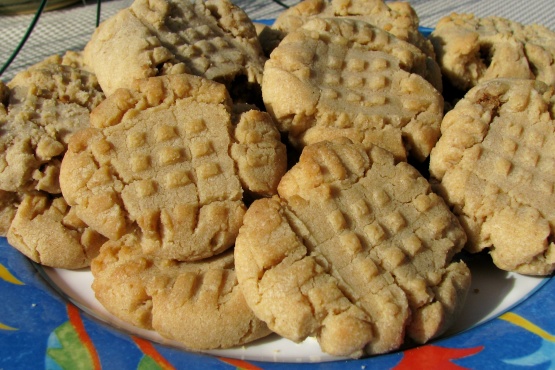 I have made so many recipes, looking for this one. If you try this one you will know what I mean. 50 years ago a neighbor gave me this recipe.And some years ago I lost it. Every time my son comes home he begs me to make peanut butter cookies, he loved them as a kid.But always has this look, like there not the same.Can't wait to see him eat this recipe. Bet you can't eat just one. I found this on recipe link from Judy. Thank you Judy.

Top Review by Gerry
Awesome Peanut Butter Cookies! Saw this one on the boards - any recipe that has been around for fifty years is my kind of recipe - love those golden oldies. With the previous reviewers results I did keep back 1/2 cup of flour which was sifted before measuring and I did need the three cups. Creaming well, sifting the flour before measuring and using well beaten eggs had a lovely soft dough which made for great tasting cookies looking like they had come from a high end bakery. Presifting the flour before measuring and well beaten eggs may be the answer. Made mine larger which had me baking for 12 minutes. I rarely eat cookies -have to admit these made for eating more then one! I thank you and the teenager and his brother thank you. A keeper for sure!
Thoroughly cream shortening, sugars, and vanilla. Add eggs, beat thoroughly.
Stir in peanut butter.
Sift dry ingredients, stir into creamed mixture.
From into tiny balls, place on ungreased cookie sheet. press with a fork to make crisscross.
Bake in oven 375°F 10 minutes.
Makes 8 dozen cookies.
(I cooked mine for 12 minutes to be really crisp. If you have a stand mixer, easer with this recipe).