Polish Easter Breakfast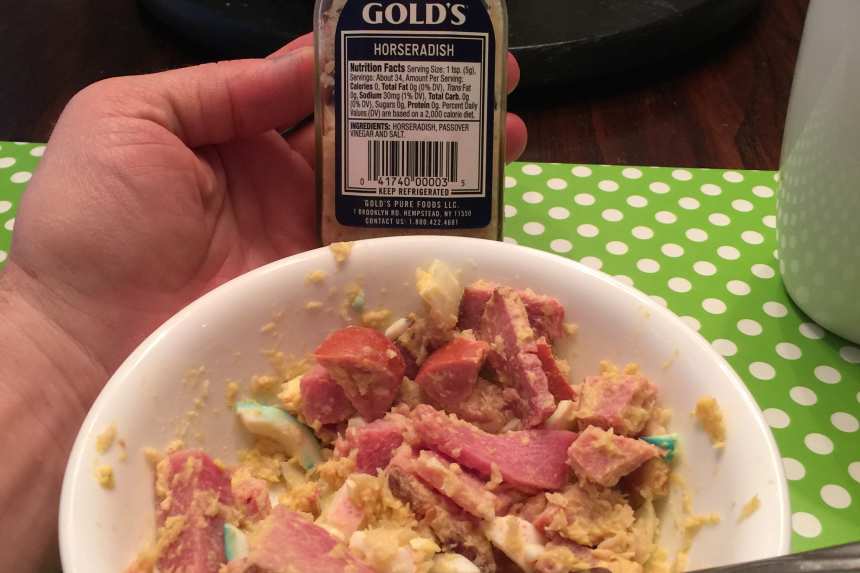 photo by Joe B.
Ready In:

30mins

Ingredients:

6
directions
The day before brunch: Simmer kielbasa until cooked through; cool. Peel casings if desired and slice diagonally into 1/4" pieces. Bake ham if needed; cool and slice to 1/4" thickness, removing hard rind. Refrigerate prepared meats in covered container until Easter morning.
Easter morning: Peel and slice boiled eggs. Peel horseradish root with a vegetable peeler and thinly slice, using peeler.
Heat a large skillet over medium heat. Add kielbasa and horseradish to skillet when hot; allow to lightly brown, turning with a spatula as needed.
Add ham and eggs to skillet when kielbasa is lightly browned. Cook until ham and eggs are heated through or until as brown as desired. Less browned will yield a more moist result, more browned will be dryer.
Questions & Replies

Got a question?
Share it with the community!
Reviews
We have a variation on this recipe that we have on Easter for supper. Now I know that the spelling is incorrect, but we call it meshanine. In it are ham, veal, kielbasa, eggs, horseradish and vinegar. Served cold. Wanting to know more about it, I contacted an author who wrote a couple of books about Polish foods, one specifically about Polish holiday dishes. He said that meshanine is a Polish word that basically means a collection of things all put together. The ingredients I listed above are all parts of a traditional Polish Easter supper that he called a cold supper. He had never heard of such a dish, but that it might be specific to a certain region, village or even a family. That somewhere along the line, someone had the idea to throw all the things in the cold supper into one big bowl. Or maybe they had a little of all the ingredients left over and just threw them in a bowl and realized that it was pretty good all mixed together. Anyone else have this dish on Easter?

 

We have a similar tradition to other comments. Taking the cold, blessed foods, from the Saturday special services, called Swieconka, the food is left alone in the fridge. https://en.m.wikipedia.org/wiki/?wi?conka Sunday morning, usually after church, our tradition is to chop the ham, eggs, fresh and smoked Keilbasa and prepared horseradish (not cream style, grated fine with vinegar and salt, sometime offered as kosher), and mix it in a large bowl. The hard egg yolks combine with the horseradish to coat the meats, almost like a potato salad, but all proteins :). Depending on taste, start with 5-6 teaspoons of horseradish to the large bowl, which is just enough to add the flavor. Mix the meats, eggs and horseradish together with large spoons to break up the yolks. I like to add 3-4 more to my dish to up the heat. This really brings out the flavor of the combination of meats and eggs, and can really clear the sinuses!. We call the dish it self ?wi?conka, perhaps because it is all the ingredients from the blessing basket combined. Together with the traditional light eye blessing bread (large rolls with a cross split on the tops) and butter formed into a lamb, the meal is enjoyed together.