Derf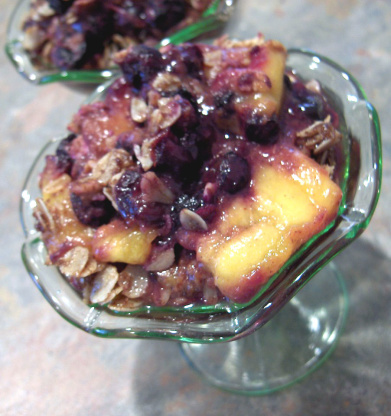 Recipe by Derf
One of my husband's favourite desserts. This time of year (fall) the fruit is so wonderful! Top it with coffee cream (half-and-half). originally from "Smart Cooking" by Anne Linsay

Top Review by Bev
I had both the fresh peaches and the blueberries and simply couldn't resist the temptation of this recipe. It kept calling my name! I'm so glad it did too, because this was wonderful! I made exactly as directed and it turned out magnificently! Thank you so much, Dorothy for sharing this wonderful recipe with Recipezaar!
Combine peaches and blueberries in an 8 cup casserole.
In a small bowl, combine sugar, flour and cinnamon.
Add this mixture to the casserole.
Mix well with fruit.
Topping-----------.
Combine rolled oats, sugar and cinnamon.
Cut in butter until crumbly.
sprinkle over fruit mixture.
Bake at 350°F for 25 minutes or microwave on high for 10 minutes, until mixture is bubbling and fruit is fork tender.
Serve warm or cold.