Pasta with Lentils and Goat Cheese
Feed_Me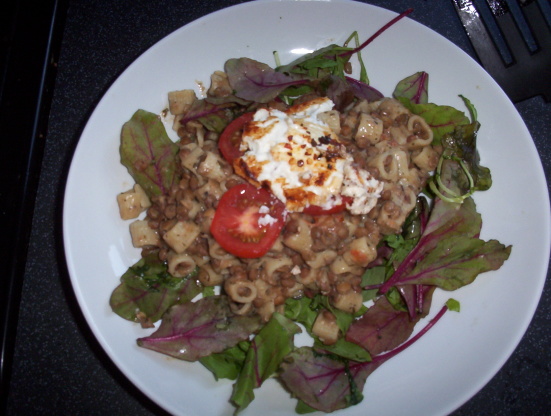 Goat Cheese transforms a pasta lentil mix into a tangy main-course

Tangy and tasty - I love lentils and pasta together. Loved the goat cheese and I'm sure feta would be great too. Thanks for sharing!
Bring broth to boil over high heat.
Add lentils and thyme, reduce heat, cover and simmer until lentils are tender (20-30 minutes) Cook pasta according to package directions Drain pasta and lentils, transfer to serving bowl, keep warm.
Combine vinegar, parsley, oil, honey and garlic in small bowl.
Beat until blended.
Add to pasta and mix gently.
Sprinkle with cheese.
Salt and Pepper to taste.