Panko Fried Green Tomatoes and Mushrooms
Bergy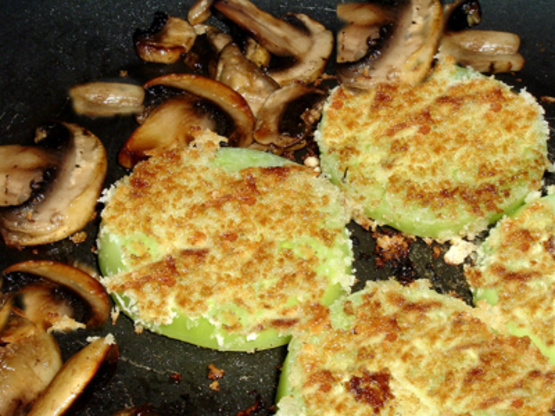 Panko gives a light crispy coating on the tomatoes. Do not over fry the tomatoes you want them to be completely firm but hot through and nicely browned. Increase recipe to do as many slices as you want I just made it for 2 people. This makes a lovely brunch side dish

Absolutely delicious!!! These are the best fried green tomatoes I have ever cooked. My husband and I raved over them with every bite we took! I mix some mayo, horseradish and fresh dill for a dip. EXCELLENT!!!
Brown the mushrooms in a heated skillet with the butter, remove mushrooms when they are browned and set aside.
Beat the egg, milk & hot sauce together.
Mix some salt & pepper with the Panko crumbs.
Lightly dust the tomato slices with flour.
Dip the dusted slices of tomato into the egg and then the crumbs, coating both sides.
Heat oil over medium heat.
Brown one side of the slices, flip, add mushrooms back into the pan and brown the other side - total time for tomatoes 7 minutes.