Oven Roasted Lemon Chicken With Seasoned Sauce
Rita1652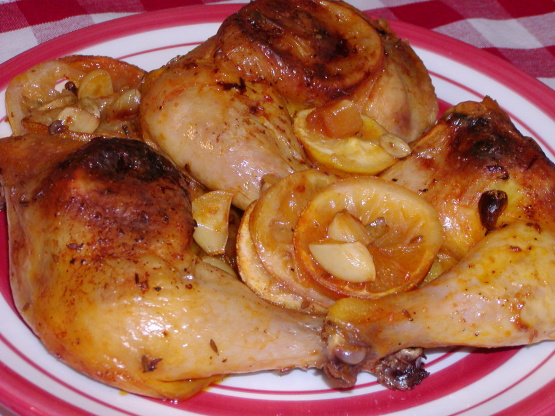 A juicy golden chicken with luscious sauce, requiring a minimum of effort. The lemon flavor is not overpowering, but definitely present. Pairs perfectly with mashed potatoes. This recipe comes from a Dutch language cookbook I recently purchased entitled "Mediterraans: Culinair genieten op z'n best" which translates to MEDITERRANEAN: CULINARY ENJOYMENT AT ITS BEST. All the recipes are anonymous so I can't give credit to it's author.

This recipe is fantastic! This was probably the best roasted chicken I've ever baked. The lemon flavor was not too strong at all. The key may be to slice the lemons very thin, so they caramelize quickly and become tangy but sweet. Alo to remove all seeds since they become bitter. The lemony sauce was food for the Gods, with the cardamon, garlic & clove savory notes. A 10 star recipe!
Pre-heat oven to 180°C.
Place one of the garlic head halves and half of the lemon slices in a large heat-proof baking dish.
Place the cardamom pods, cumin seeds, and cloves in a mortar and pestle and lightly crush (just enough that their aromas are released); scatter these in the baking dish.
Gently loosen the skin (from the bottom, not neck, end) of the chicken and place lemon slices over the breasts (you should be able to get 2-4 slices over each breast).
Put the remaining lemon slices and the other garlic half inside the chicken.
Place the chicken BREAST SIDE DOWN in the baking dish.
Rub or brush the olive oil over the chicken and salt and pepper as desired.
In a small saucepan on the stove top, heat the water to boiling and dissolve the bouillon cube in it.
Take 2 TBS of this broth and add to the baking dish.
Place the dish in the oven and bake for 1 hour.
Remove the dish from the oven, turn the chicken over, baste with pan juices, and return to oven, baking one hour more until the chicken is done (when the thickest part of the leg is pricked, the juices will run clear).
Remove the chicken to a cutting board, and pour any pan juices through a strainer into the saucepan with the remaining chicken bouillon.
Heat this mixture to boiling, and as it boils stir the flour briskly in; boil for 2 minutes or until thickened.
Pour the sauce into a serving bowl (if your flour clumped, just strain it as you pour into serving bowl).
Remove the lemon slices and garlic from the chicken; carve as usual.
Serve, passing sauce.