Oven-poached Halibut Provencal
Derf2440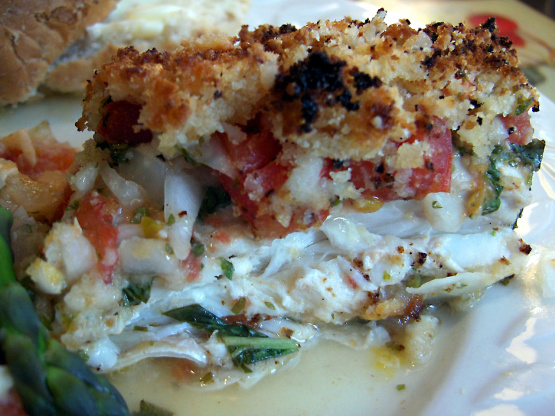 This is hands-down one of my most favorite fish dishes to make. Any white fish can be substituted for the halibut. I believe it comes from a Cooking Light cookbook. Everyone who's tasted it loves it!

This halibut was very good. I did not have any anchovy paste so maybe it is even more flavorful with the paste. I don't know if it is just me, but I have made halibut several times, and no matter how I prepare the fish, it just doesn't have enough flavor for me. This recipe was the most flavorful I have had. Thanks for the recipe!
Preheat oven to 350 degrees.
Place wine and fish in an oiled 13"x9" baking dish.
Combine tomato through garlic, and spoon over fish.
Bake 35 minutes.
Preheat broiler.
Combine breadcrumbs, parmesan cheese, and olive oil.
Sprinkle over fish, and broil until toasted.
Serve.