Tinkerbell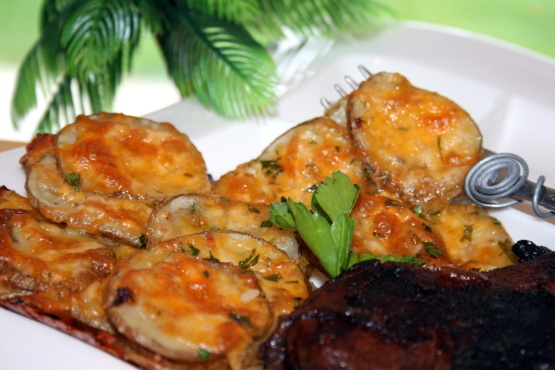 Posted for Zaar 2005 World Tour. This comes from a cookbook of countries along the Danube. The recipe is from Germany. I have not tried this recipe yet. Update: Just tried this the other night. The potatoes have a really nice texture! I could see adding garlic or more onion if you want. I recommend sprinkling the salt more evenly over the potatoes instead of combining it with the butter, but otherwise it's very tasty!

This was very good! Thanks for sharing the recipe Kumquat.
Preheat oven to 425 degrees F.
Layer potato slices in 13x9x2 inch baking dish lightly sprayed with oil.
Melt butter in small saucepan and stir in grated onion, salt and pepper.
Pour over potatoes and bake for about 45 minutes or until tender when pierced with fork.
Sprinkle with parsley, thyme and cheese and bake for an additional 15 minutes or until cheese is melted.