Oven Baked Sweet Potato & Chicken Risotto
Jubes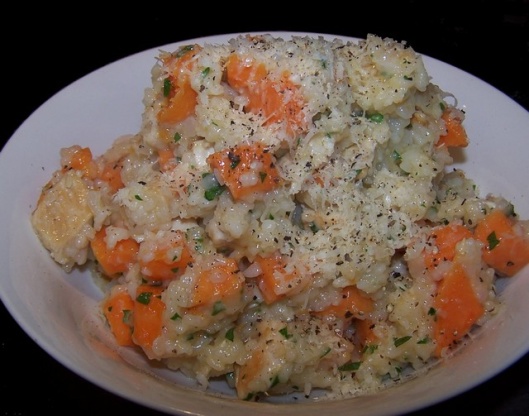 I adapted this from a recipe I found in a Marie Claire cookbook. It is dead simple, but does need a little careful watching towards the end to prevent it from getting too dry.

We liked this, but the texture didn't seem like risotto--it was too sticky. I've had much better results cooking risotto in the microwave. The sweet potato was great, but next time I'd use ham or bacon instead of chicken. I subbed 1/2 teaspoon of dried thyme for the fresh thyme.
Preheat oven 190°C.
Put rice, sweet potato, stock and butter in oven proof dish. Seal with foil or place on a well fitting lid.
Cook for 30 minutes, then check and stir. Cook further 5 minutes.
Remove, add chicken, cheese, thyme, salt and pepper and stir until creamy.
Serve immediately.